Professor Dumpster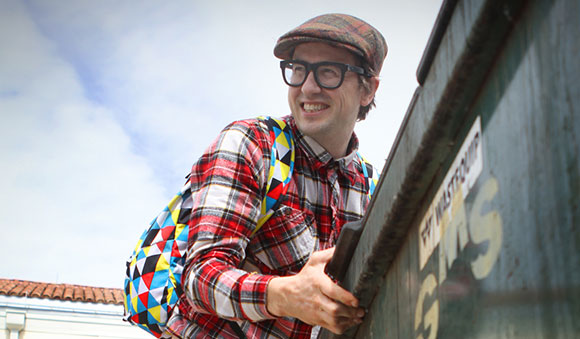 A house is not a home without inhabitants, right? That's where Professor Dumpster comes in. When he's not testing sustainable technologies and low-waste living principles in an oversized trash can, Professor Dumpster sometimes goes as Environmental Science Professor, Dr. Jeff Wilson. Professor Dumpster will make a dumpster his home-sweet-home for a full year starting in fall of 2013. During the beginning phases of the project, Professor Dumpster will essentially be "dumpster camping" in the bare-bones frame (don't worry, we'll run it through the car wash a couple times).
First attempt at exiting a dumpster…. #FAIL.
After four months of practice…. #GOLD
Over the course of the year, the dumpster will be retrofitted into a modern dwelling space with all the amenities of a standard American home (shower, toilet, kitchen, bed, and WiFi access). By living in the dumpster, Professor Dumpster will not only experiment with innovative ways to live with less, but will also serve as the friendly (and funny) face for the educational side of the project. Just like Bill Nye the Science Guy or Mrs. Frizzle from the Magic School Bus, Professor Dumpster will engage with the next generation in creative thinking about the important topics of sustainability and science education.